Advocate: Children should take advantage of preventative healthcare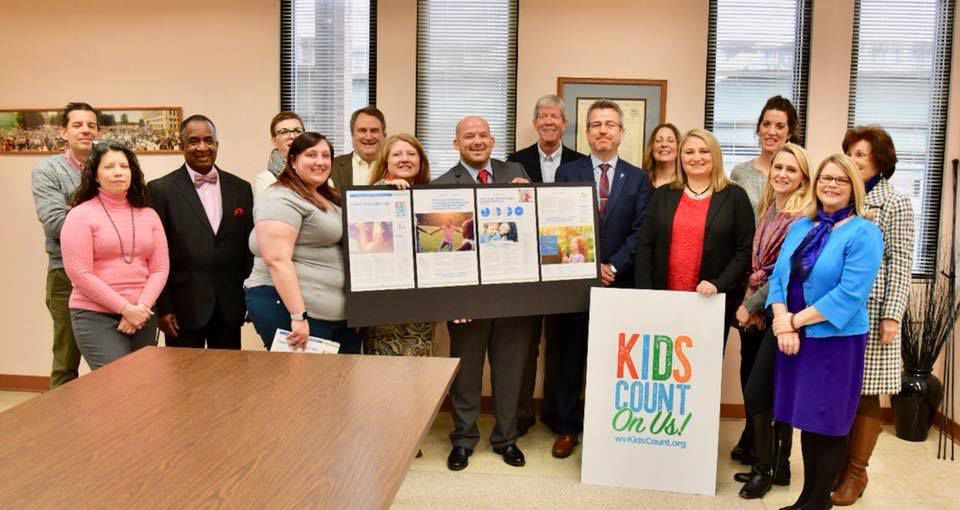 Officials are seen at a press conference with a copy of the first of six issue briefs to be released by West Virginia Kids Count.
Tricia Kingery, executive director of WV KIDS COUNT, speaking during the press conference at which the report was released.
Photo:  Courtesy of WV KIDS COUNT
CLARKSBURG — A recent issue brief on children's access to health insurance in the state will help determine programming and move policy, according to the brief's developers.
The issue brief, published by West Virginia Kids Count in partnership with West Virginians for Affordable Health Care, showed nearly 98 percent of West Virginia children were covered by health insurance in 2016, compared to 95.5 percent in 2015 and 90.7 percent in 2008.
According to the issue brief, West Virginia is beating the nation in percentage of children with health insurance coverage. Nationwide, 95.5 percent of children were insured, compared to 97.9 percent of children with health insurance in the state.
It is "a big deal," according to Kelli Caseman, director of child health for West Virginians for Affordable Health Care. "It's the highest number that we have had here in West Virginia, and it's one of the highest in the country. We don't usually get credited for doing a lot of good things around health care in our state, but we are insuring more kids than most states in the country, so we're really proud of that."
West Virginia children rely more heavily on government-sponsored health insurance than children nationally. Almost half of West Virginia's children are insured by a government-sponsored health insurance program like Medicaid or the Children's Health Insurance Program, more commonly known as CHIP, compared to 43 percent of U.S. children.
The large percentage of children with government-sponsored insurance is due to the socioeconomic conditions in the state, Caseman said.
Kids Count Executive Director Tricia Kingery said her organization uses data and partnerships to provide information that can be used by organizations as they prioritize missions, develop programming and seek funding.
West Virginians for Affordable Health Care, for example, is using the data to expand its focus to ensuring that children in the state are actually using their health insurance to the fullest extent to improve well-being.
West Virginians for Affordable Health Care is a nonprofit, nonpartisan organization working toward a goal of high-quality, affordable health care in the state.
"What we want them to do is utilize prevention services. We want them to go in for a well-child exam every year and we want them to stay out of the (emergency room)," Caseman said.
"Especially when we're talking about kids and they're going through these developmental stages, it's really important that they utilize health care, and since we have so many kids who are now insured, a lot of that care is being paid for. They just need to make sure to utilize it," she said.
An annual well-child exam, which includes a physical exam and various screenings, including a mental health check-up, is important for children to receive and is covered for insured children, according to Caseman.
"Developmental disabilities, the onset of an illness, these are all things that can be caught with a well-child exam," she said. "It also teaches kids to start accessing healthcare before there is a problem … It helps overcome that fear of seeing a health-care professional."
In addition to preventative services, Caseman said they want parents to start taking children to the doctor at the first sign of illness rather than waiting until a trip to the hospital emergency room is necessary. "What we would love to see is a cultural shift," she said.
According to Caseman, the data provided by Kids Count is also beneficial in gaining funding for programming.
"In our state, we have a terrible time collecting data," Caseman said, adding that this lack of data makes it difficult to apply for grants and articulate issues within the state.
"We know Kids Count issues briefs, and data books have brought millions of dollars into the state because it's resourced quite frequently in grant applications at the federal and state level to leverage support for various regions and projects," she said.
The primary target for the information is legislators, however.
"One of the reasons Kids Count exists is to use data to move policy. Education is a powerful thing, so putting the data and coupling it with the content and the call to action makes it very clear for our elected officials to know where investment needs to take place in the lives of children and families," Kingery said.
Despite high rates of health insurance coverage, the state ranks 43rd in the nation in child well-being, she said.
"Health care is the foundation of life, so quality of health care and access to quality, affordable health care for children is a must," she said.
The summary on children's healthcare coverage will be followed by an additional five issue briefs at approximately five- to six-week intervals, according to Kingery.
The remaining issue briefs will focus on general children's health in the state, the link between lack of childhood physical activity and substance abuse, children's oral health, the impact of substance abuse on newborns and the effects of adverse childhood experiences, Kingery said.
In honor of Kids Count's 30th anniversary next year, the organization is also conducting a survey that will help guide the organization's work and resources into the future. That survey is available online at wvkidscount.org.