Campaign kicks off to highlight children affected by opioid epidemic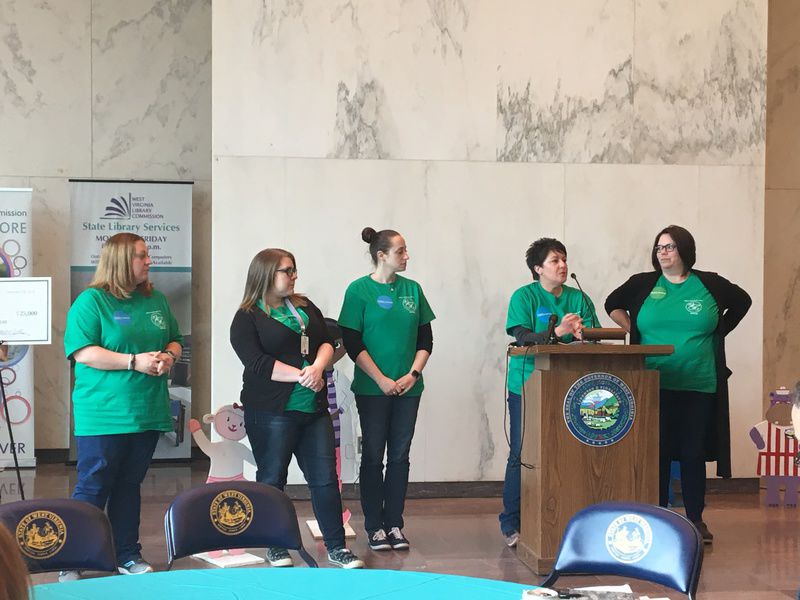 "We talk a lot about the drug epidemic in terms of overdoses and first responders, but we rarely talk about the kids," said Kelli Caseman, Director of Child Health with West Virginians for Affordable Health Care. "They're kind of the second line of casualties."
Caseman is leading "Year of the Child," a year-long campaign to unite individuals working for the welfare of children, and to create ideas for meaningful solutions.
"By the start of the legislative session next year, we'd like to have a platform of policy issues to say, 'Legislators, here's what we need to do to help these kids.'"
Several leaders in child advocacy shared their ideas with the group Wednesday, including Necia Freeman, organizer of Backpacks and Brown Bags, who was featured in the Oscar-nominated documentary Heroin(e).
"In 2016, there were 38,784 calls made to child abuse hotlines in West Virginia," Freeman said. "In West Virginia, we have 424 social workers."
Her idea is to house social workers at every school in the state — giving the social workers a safe space in which to work, and children and teachers immediate access to resources.
She said she's heard countless instances in which teachers have called Child Protective Services multiple times for a child in need.
"Let's put everybody who has a heart for children under the same roof," she said. "We have to figure out a way to make the system work for everybody."
Ideally, she would like to see a county act as a pilot for the initiative, and then have the program rollout into other counties throughout the state.
Gayle Manchin, West Virginia Secretary of Education and the Arts, said she hopes to see more schools focusing on a trauma-based approach.
"More and more children are being labeled ADHD, but what we're finding out is that these children are not ADHD, and it's not medication that will help these children," Manchin said. "These children are suffering from trauma."
She said the state faces two main issues — babies being born to addicted mothers and children who come from homes with addiction.
Babies born with drug exposure can face a host of developmental issues, and children with parents or caregivers suffering from addiction face "toxic stress."
"Teachers are being called upon to do so much more than they dreamed of doing or studied to do," Manchin said. "How do you deal with these children who are suffering from trauma? How do we as teachers, counselors and principals address and be sure we're providing the resources they need?"
She said educators must be equipped, starting in their undergraduate studies, to handle children who've faced trauma.
One program already in place to help educate school employees about trauma is Handle with Care, which not only educates, but connects law enforcement and educators to make sure the best outcomes are achieved for students.
For example, if a law enforcement officer responds to a domestic disturbance call in which a child was present, the officer is asked to let the school system know to handle this child with care. No details of the incident are provided.
Andrea Darr, director of the West Virginia Center for Children's Justice, said every county in the state has now been informed about the Handle with Care program. For more information, visit handlewithcarewv.org.
Kathy Szafran, president and CEO of Crittenton Services, said her organization offers comprehensive behavioral health services. In 21 counties, home health behavioral services are available, which Szafran said can be tremendously helpful.
"We know there are so many obstacles for parents and families to get to these centers to receive services, and the stigma that comes along with it."
Another program, TIES (Trauma-Informed Elementary Schools), has also proven effective to help handle children with developmental and complex traumas.
"There are models we can use, and models we can develop as West Virginians that work," Szafran said. "I'm optimistic about where we're going."
Representatives with FMRS Health Systems in Beckley shared some of their success stories with the group, too.
The services of the response team have yielded a 59.3 percent reduction in acute hospitalization costs in a single year, saving nearly $4 million.
Other programs showing promise include the Expanded School Mental Health, the Wraparound Program and RAPP (Resiliency in Appalachia).
"These programs let kids thrive and learn instead of just surviving," Pack s
aid.   For more information about FMRS, call 304-256-7100.
Dr. Michael Brumage, Director of the West Virginia Office of Drug Control Policy, asked conference attendees to think a little more globally.
"We need to take a step backward and think about what's driving this epidemic."
He talked about smoking rates, alcohol use, gambling and cell phone addiction.
"What is it about the way we're living, that living with reality is unbearable and intolerable?"
He referenced the book "Hillbilly Elegy," in which having one person made all the difference in the life of the author.
Bringing communities together to advocate for and invest in children, he said, is the real challenge moving forward.
To learn more about the Year of the Child campaign or how you can help, call 304-444-5917 or email kelli@wvahc.org.
— Email: wholdren@register-herald.com and follow on Twitter @WendyHoldren