Survey shines light on access to healthcare for children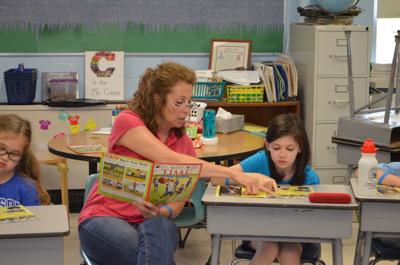 CHARLESTON — A new set of survey results shines light on how important it is that state officials work to increase access to health care for children.
The results, published this week by West Virginians for Affordable Health Care, came after eight months of surveying.
"Respondents overwhelming believe that schools are an appropriate place in which to provide health care," said Chantal Centofanti-Fields, executive director of WVAHC. "In particular, we need to expand mental health services in schools by co-locating service providers onsite or by expanding the use of tele-medicine. We need to fund more mental health school staff.
The survey results come as a new report from the Georgetown University Center for Children and Families shows there were more West Virginia children that were uninsured in 2017 than there were in 2016.
In 2016, there were about 9,000 children uninsured, the report found. The next year, there were 11,000 uninsured children. This was after a decade of steady progress where more and more children were becoming insured.
Nationwide, there were 276,000 more uninsured children, according to the report.
"With an improving economy and low unemployment rate, the fact our nation is going backwards on children's health coverage is very troubling," Joan Alker, executive director of the Georgetown University research center and a research professor at the McCourt School of Public Policy said.
In about 20 percent of schools across the state, students can access a school-based health center. These are centers located directly inside of a school that provide preventative and immediate care, as well as behavioral health services.
This program started almost two decades ago and was meant to help students who live in some of the most rural parts of the state access health care. But the survey results show that only about half of the school nurses who responded said their school collects health insurance information from students.
Among the local school superintendents and principals who responded to the survey, many said that their students need better access to mental health services.
It's not secret that the state is battling a deadly opioid epidemic, and Centofanti-Fields said children can be adversely affected because of it.
Centofanti-Fields points to data that shows West Virginia is ranks No. 1 for the number of children removed from their homes. She said that there has been a 34 percent increase in the number of open cases Child Protective Services has over the past three years, and a 22 percent increase in abuse and neglect referrals over the same time.
"There are many things that need to be done to address the mental health care needs of these children. Again, we need to expand mental health services in schools by co-locating service providers on site or by expanding the use of tele-medicine," Centofanti-Fields said. "We need to fund more mental health school staff. Childhood trauma can have an immediate and potentially overwhelming impact on the ability of a child to learn.
"We must take steps to undertake a systemic approach to incorporating trauma-informed practices in their school systems, rather than increase punitive discipline on unruly children."
Jake Jarvis can be reached by phone at 304-935-0144, on Twitter at @NewsroomJake or by email at jjarvis@statejournal.com.